Young Nicks Head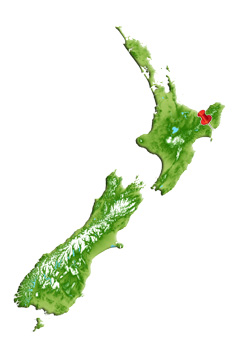 Historically significant as the landing point for the Horouta waka, one of the first migrating waka to arrive in Aotearoa and as the first land mass of New Zealand spotted by Nicolas Young, a surgeons boy on the Endevour.
Vision
To turn back the clocks recreating a self-sustaining ecosystem containing flora and fauna as it would have been present in pre human times and for a challenge, do it while still running a viable farming operation.
Location
The prominent white cliffs seen across the bay just south of Gisborne.
Area
Nick's Head Station and Mapiri Station comprise approximately 1350 ha of sheep and cattle farm.
Organisations involved
Ecoworks NZ Ltd is contracted to oversee the pest control and species re-introductions.
Management history
Started in 2003 with the purchase of Nick's head station and additional purchase of Mapiri Station in 2005
An "Xcluder" fence from cliff edge to cliff edge cutting of 35 hectares for intensive habitat restoration. Plantings are in year three and just starting to shade grass. All remnant bush gullies stock fenced and replanted. There is a trapping regime covering the entire station. This includes trapping and shooting of cats, rats, possums, all mustelids, hares, rabbits, peafowl, turkey and hedgehogs. Mice are targeted at specific points for lizard protection. Over 200,000 eco-sourced natives have been planted to date. Two sound systems have been installed for seabird attraction.

Access
limited