Windy Hill – Rosalie Bay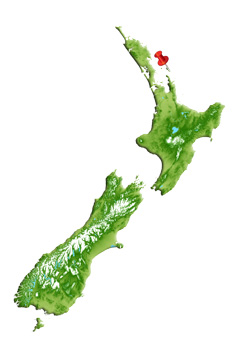 The Windy Hill Rosalie Bay Catchment Trust actively promotes biodiversity, conservation, the conservation experience, conservation partnerships and quality conservation management.
Vision
The objective is to reduce the densities of invasive pests sufficiently to allow the reintroduction of species lost to Great Barrier with a particular focus on birds.
Location
South eastern Great Barrier Island.
Area
The area is a mosaic of mature and regenerating coastal broadleaf podocarp forest of significant ecological value. Integrated plant and animal pest management began in a small area in 1999 and over the last ten years has increased to around 700 HA involving 14 landowners. As resources and interested neighbours allow it will continue to expand. The sanctuary is divided into four pest management project areas - Little Windy Hill, Big Windy Hill, Benthorn Farm and Rosalie Bay. The sanctuary area is a haven for North Island kaka, kereru, banded rails, chevron skinks, and pateke ( brown teal duck).
Organisations involved
Windy Hill/Rosalie Bay Catchment Trust and private landowners.
Management history
From 1999 trapping was the sole method used to reduce pest densities, however monitoring indicated this was not sufficient and a twice yearly pulse of toxin was introduced in August 2005. In 2008 the project began converting to a fully toxin based programme to improve efficacy further and reduce costs. There is a comprehensive monitoring programme in place – birds, freshwater streams, lizards, invertebrates, weta, and lizards are monitored twice yearly. Rat tracking tunnels are monitored five times a year. Tracking tunnels in July 2009 averaged at 6% which has been the best result to date.
In 2004 and again in 2009 North Island Robin were translocated to the sanctuary- the first of any species to be returned to Great Barrier. Two rare chevron skinks have been released into the area following rehabilitation at the Auckland Zoo.
Website
Newsletters
Reports
Twenty years of ecological restoration; a review, April 2019
Windy Hill Sanctuary Goodnature A24 Trap Project: Final Report #10, September 2018
Report #10 Appendix 1: Cost Comparison Goodnature A24 with Windy Hill Sanctuary Station