Whakatane Kiwi Project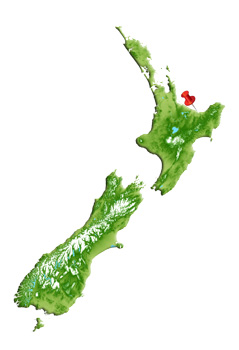 The Whakatane Kiwi Project is a community based and currently, agency led project centred on the Ohope Scenic Reserve within the town of Whakatane. North Island Brown Kiwi are being re-established within the reserve through Operation Nest egg, sourced from the remnant population in the reserve and from other isolated populations within the immediate area.
Vision
Kiwi thrive and prosper within the Whakatane district
Location
Ohope Scenic Reserve on the mainland, complimented by Whale Island Moutohora, a predator free island, located 9km off shore from Whakatane.
Area
A core stoat protected area of 500 ha is established within and around Ohope Scenic Reserve with an expansion program underway to provide a further buffer zone up to 2500 ha giving ~ 3000 ha under management. Possums, rats, stoats, cats and goats are or will be under intense management. The Reserve is a 'No dog" area.
Organisations involved
Environment Bay of Plenty, Department of Conservation, Bank of New Zealand Save the Kiwi Trust, the Whakatane Kiwi Trust, Environment Ngati Awa, Whakatane District Council and Kiwi Encounter.
Management history
Kiwi management initially began in 2000 with Operation Nest Egg based around 1 remaining breeding pair of kiwi. By 2004 four breeding pairs were under ONE. In 2005, a Kiwi Management Plan was prepared and a permanent project manager employed by Environment Bay of Plenty. By 2006 the Ohope Scenic Reserve kiwi population had grown to 30 with a satellite population of 12 established on nearby Moutohora.
A small isolated kiwi population in the Waiotahi valley is also under management with support from PF Olsen Forestry Ltd. Any young birds resulting from ONE are returned to Ohope Scenic Reserve or Moutohora.
Predator control is being expanded onto adjacent private and Ngati Awa land with a grant from the Biodiversity Condition fund. The Whakatane Kiwi Trust, consisting of local residents was formalised in 2006 and will play a major role in advocacy and fund raising.
Access
Public access is available to Ohope Scenic Reserve from the bottom of Ohope Hill and the Burma road car park. Adjacent Mokorua Scenic Reserve is accessible from White Horse Drive and the bottom of Mokoroa Gorge.
Moutohora is a Wildlife Refuge with restricted access by permit only.
Website