Mahakirau Forest Estate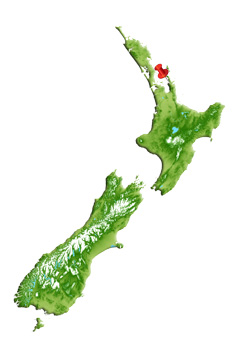 Community managed ecological restoration at the heart of the Coromandel Range.
The Mahakirau Forest Estate comprises 580 hectares of native forest divided into 24 private properties with introduced animal and plant controls. Each site is covenanted with the QEII National Trust (560ha) or with Thames Coromandel District Council. Mahakirau Forest Estate is bounded on three sides by DOC managed land - with the Manaia Kauri Sanctuary to the south and the Coromandel State Forest to the east and west. Most of the estate is recognized in the Protected Natural Area Programme (PNAP) and forms a Recommended Area for Protection (RAP) that is contiguous with areas administered by DOC. The Mahakirau Forest Estate has been ranked as holding "outstanding wildlife value", including the extremely rare Coromandel striped gecko, Hochstetter's and Archey's frogs, North Island kaka and North Island brown kiwi. Helms butterflies, painted cave weta, longfin eel and kokopu spp. have also all been found in the estate. There are strong resident populations of kereru, tui, bellbird, fantail, tomtit, silver eye, grey warbler, kingfisher, morepork and shining cuckoo. The diverse forest flora consists of over 50 tree species including mature Northern Rata, Kauri, Miro, Rimu, Halls Totara, Kahikatea, Kaikawaka, Tanekaha, Taraire, Pukatea, Kohekohe, Kanuka and Manuka, as well as prolific and diverse epiphytic, understorey and stream boundary flora (including at risk King Fern and Kirk's daisy).
Vision
To manage Mahakirau Forest Estate as an eco sanctuary so that it will act as a 'wellspring' for indigenous flora and fauna (particularly rare and endangered species), contributing to the Coromandel wildlife corridor and the wealth of our national biodiversity
Objectives
Our core ecological management plan is to implement the most cost-effective and efficient pest control and biodiversity restoration programmes for ecosystem resilience.
In a nutshell:
Protection of endangered and iconic native species (taonga) through targeted humane control of mammalian pests and predators.
Conserving a satisfactory level of species or community viability to ensure these persist into the future.
Increasing native biodiversity across a wide range of taxonomic and functional groups enhancing pollination and dispersal services resulting in enhanced ecosystem functioning.
Sustaining aesthetic values and increasing habitat area and connectivity.
Maximising scientific research, community involvement and education opportunities.
Location
Atop and in the middle of the Coromandel Range!Mahakirau Forest Estate is situated off the crest of the 309 road, between Coromandel and Whitianga.
Area
580 hectares ofprivate land.
Organisations involved
MFESI / QEII National Trust / DOC / Waikato Regional Council / Auckland Zoo / Kiwis for Kiwi /University of Otago / Massey University.
Management history
The Mahakirau Forest Estate Society Incorporated (MFESI) was established in 2001 to act as a united legal entity, and the society has been undertaking pest control (to protect and restore biodiversity) on behalf of all Mahakirau Forest Estate lot owners since then. The land owner group is a highly motivated and active group of individuals driven by the desire to protect and enhance the Coromandel and New Zealand's natural environment, and in particular its threatened species. Our landowners are financially and emotionally committed. We function as a caring society & theforest has become a rich haven; which is good news for resident vulnerable species. The fact that we live on site, breathing the same air, drinking the same water as the creatures we are invested to protect, is a rare and profitable quality. It means the engagement is high and the rewards are generous.
Considerable progress has been achieved by the community to date, both in terms of contributing to and benefitting from the wider conservation community (professional and amateur), and in terms of managing our diverse and important forest. Initiatives to date include: 1) a continuous stoat trapping programme since 2001 (which makes it one of the longest running stoat programmes on the Peninsula), 2) continued possum and rat baiting programmes on an annual basis since 2007 and 2008 respectively, 3) the ongoing monitoring of pest control results, and 4) understanding the broad spectrum of our forest biodiversity and monitoring key species.
2001-2016:

STOAT (Mustelid) PROGRAMME - Includes 100 traps (Fenn 6 andDOC 200/250) at max. 35mtr spacing, currently monitored DAILY. Another 50+ DOC200's are lessaccessibleand monitored monthly. Total control area approx. 450Ha. Results from the first 15 years (2001-2016) = 711 stoats, 12 ferrets and 12 weasels, with abi-catchof 390 rats and 4 hedgehogs.We are currently upgrading our infrastructure, improving our track network and hardware.

POSSUM PROGRAMME - Annual application of toxin in bait stations within the Estate each spring since 2007. The bait stations are set up to DOC protocols at 150m max grid spacing across the majority of the Estate (550 Ha approx. 350 bait stations in total). This has proven successful with contractor monitored RTC recordings generally below 5% as a result of the programme. Individual trapping and shooting methods keep numbers relatively low throughout the year.

RAT PROGRAMME - Commenced in 2008 (with the assistance of Biodiversity Condition Fund assistance, CON 563). Annual application of toxin in bait stations and staple fixed bait bags generally at 35m centres along existing bait station and secondary 'bush bash' lines to suit the terrain across most of the Estate (550 ha) each spring. This control grid includes approximately 3000 bait points. The results have varied, due to external and climatic influences, however monitored recordings generally below 15% have resulted from this methodology. Currently we are using Ratabate (Diphacinone). A large proportion of landowners (300ha) have recently contributed additional costs for a more intensified programme resulting in<5% RTC. 1080 has been used (inconjunctionwith DOC administered lands) twice since 2001.We are currently installing animprovedtrack network and more bait stations.

MONITORING -Annual monitoring of control activity results of possum, rats and stoats since 2005. To date each major activity has been monitored to DOC protocols either by members of the MFESI or by independent contractors. The followingtargetshave been maintained since 2008 :

Rats <10% at beginning of summer,
Possum <5% at beginning of summer,
Stoats <0.15 average.
Access
Private land with gated security. Please contact our community advocate Sara Smerdon: sara@smerdon.info
Website