Behaviour of invader ship rats behind fences at Maungatautari
John Innes, Corinne Watts, Neil Fitzgerald, Danny Thornburrow, Bruce Burns (Landcare Research, Hamilton)
Jamie Mackay (Auckland University); Cam Speedy (EPRO Ltd, Taupo)
Ship rat eating a bird egg. Photo: David Mudge
The pest-proofness of predator fences is increasingly being tested in field conditions. Manufacturers and users of fences acknowledge however, that - realistically – incursions by individual pest mammals are inevitable. These may occur when a tree falls over the fence, or when the fence is damaged by a flood event or vehicle accident.
Ship rats are the species most likely to reinvade in these ways throughout much of forested New Zealand, since they are abundant; they are mostly arboreal and frequently den up trees, and they are active every night, all year round.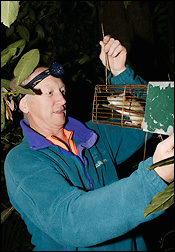 John Innes with a trapped ship rat. Photo: Neil Fitzgerald
In April-September 2006 we released six radio-tagged ship rats into the pest-free southern cell on Maungatautari (Waikato) to see how such invader rats would behave. All six were adult males, and they were released one at a time next to their existing home ranges by the fence, exactly mimicking what would happen in the invasion scenarios listed above.
The results were rather astounding – four of the six jumped back out and returned to their original range outside the fence; two did so within 24 hours of release! This was unexpected because people had previously perceived the predator-free, food-rich forest to be a magnet for invading pests that they wouldn't want to leave. The other two rats were eventually poisoned inside the fenced area after 8 and 31 days respectively.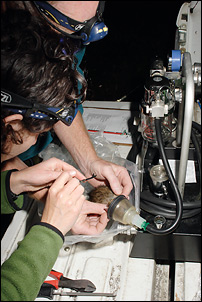 Corinne Watts and John Innes fitting a radio transmitter to an anaesthetised ship rat. Photo: Neil Fitzgerald
Why would the rats leave Nirvana? Perhaps dry warm den sites or comfortable feeding places are hard to find when the rat is relocated to a new forest patch, or perhaps they like to be social, moving about until they contact other ship rats, especially potential mates.
Rats that did not jump out immediately stayed within 50 of the release site for about 3 days, then began making increasingly large forays into the cell. These movements were often large (up to 500m per night) compared to those of mainland rats living in more usual social situations. All of the released rats travelled at some stage on top of the predator fence near their release site. Only three of the six released rats tracked in standard footprint-tracking tunnels set at 50 m spacing inside the cell.
Radio collared ship rat being released into a pest-free sanctuary. Photo: Neil Fitzgerald
These surprising results suggest that adjacent neighbour male ship rats are likely to export themselves from a fenced enclosure should they end up inside there, and that they may or may not leave footprints at tracking tunnels when in a sanctuary. Sanctuaries worried about ship rats entering through a fence breach should target invader rats with traps and poison within 100m of the breach site for 3 days, then (while maintaining this) broaden the net of detection devices further afield for a week or two. Traps should also be set on top of the pest-proof fence at the breach site.
Further research is required to see if female ship rats, or a male and female together, or dispersing juveniles would behave the same way, and of course other pest species (stoats, possums, feral cats, mice) should be similarly studied in the future. We are also keen to see how if trained predator dogs can detect invading ship rats more effectively than tracking tunnels.
Posted December 2006