Wandering weta—Monitoring Cook Straight giant weta released at Karori Sanctuary
Corinne Watts, Danny Thornburrow (Landcare Research, Hamilton)
Raewyn Empson (Karori Sanctuary, Wellington)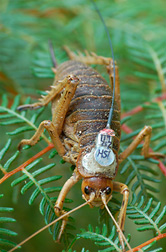 Radio transmitter attached to a Cook Straight giant weta. Photo: Danny Thornburrow
Twenty Cook Strait giant weta fitted with radio-transmitters were among 100 weta released into Wellington's Karori Sanctuary in February 2007. We tracked the animals for 50 days and were surprised by the distances they covered, especially the amorous males. On average, male giant weta walked 96m per night, while females moved only 33m. The maximum distance traveled by a male weta in one night was at least 295m – the equivalent of a human walking about 15km! It's likely the actual distance was even further as the measurements only recorded the start and finish points, not the route taken. The most mobile weta, Number 70, regularly walked at least 250m per night, often moving faster through dense bush than his frustrated trackers. At the end of the study he was found 1km from his original release site. It is likely that the males walked furthered as they were looking for females to mate with.
The study revealed a positive start for the new giant weta population in the Sanctuary, with animals mating and females being seen laying eggs. Not one of the animals tracked was eaten during the study and all of the tiny 1g transmitters have been removed. This was the first use of transmitters to track transferred weta and it provided a valuable insight into the behaviors of the animals. Weta spent most of their time on the ground, walking across the leaf litter and feeding on mainly native plants but also some introduced plants, such as clover and dandelion. During the day, weta would hide on the ground underneath the vegetation and were very hard to find.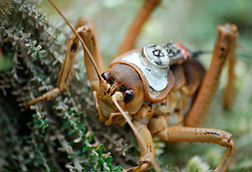 Cook Straight giant weta released at Karori with radio transmitter attached . Photo: Danny Thornburrow
While weta have been transferred before, this is the first time there has been a follow-up study of the new population. It was also a very successful use of transmitter technology. Monitoring that number of animals it would be expect some transmitters to be dislodged over the 50 day period.
It was also the first time Cook Strait giant weta have been transferred from an offshore island sanctuary to a mainland site. They became extinct on mainland New Zealand over 100 years ago. Up to four transfers are planned, with up to 450 weta being moved from Matiu/Somes and Mana Islands over the next four years.
Giant weta are New Zealand's largest invertebrates (weighing up to 35g) and the flagship for insect conservation in New Zealand. The decline of most giant weta can probably be attributed to three major causes: predation from introduced mammals, habitat destruction, and modification of habitat by browsers. Defence mechanisms such as raising and quickly flicking their legs down in the hope of 'spiking' a predator's face, or lying on their backs to 'play' dead are of little effect and highlight just how vulnerable the weta are.
The Landcare Research study of Wellington's new weta population was funded by Oscar-winning film and television effects company, Weta Workshop via New Zealand National Parks and Conservation Foundation.

Posted August 2007