Mokomoko Dryland Sanctuary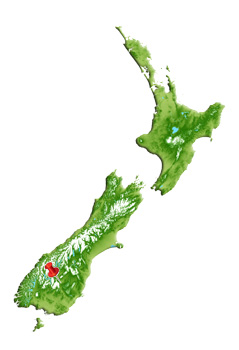 Dryland environments make up 19% of New Zealand's land area and contain about half of NZ's threatened flora. However, only 3% is formally protected, and few if any community-funded sanctuaries are located in this environment. The Central Otago Ecological Trust (COET) was formed in 2005. We have released captive-bred Otago skinks into a 0.3-ha predator fence as a pilot study to determine whether we can re-establish these critically endangered lizards in the Alexandra Basin. Given the recent birth of three baby skinks inside the fence, we are confident we can move to phase 2 of the work by expanding the fence and introducing wild stock, and other endangered species such as Grand skinks.
Vision
Our immediate goal is to help save critically endangered Otago skinks from extinction. Our longer-term goals are to return other native biodiversity to Central Otago, and to increase community awareness and participation in dryland conservation .
Location
Close to the Alexandra township.
Area
The size of the expanded predator fence will be 14 ha. We will be testing the efficacy of a predator barrier fence that will allow access by mice. DOC have demonstrated that suppression (as opposed to eradication) of predator numbers is enough to achieve good recovery of Grand and Otago skink populations. The habitat consists of open grassland and shrubland interspersed with craggy outcrops of schist rock. Surrounding views of the nearby Central Otago mountain ranges are spectacular.
Organisations involved
Central Otago Ecological Trust, Department of Conservation (COET is a partner of the Grand and Otago Skink Captive Management Programme), Landcare Research, Alexandra Museum, Otago Polytech (Cromwell).
Management history
The Trust was formally launched by the Prime Minister, Helen Clark, in November 2005, in which Otago skinks were returned to the Alexandra basin for the first time in 30 years. A wild population has now been established in Alexandra. Funding has been received from Central Lakes Trust, Otago Community Trust, World Wide Fund for Nature, Lotteries Commission, Contact Energy, Transpower Grants, foundation members, and public donations. There has been a huge increase in profile and support for conservation of rare lizards in this dryland environment.
Access
By arrangement.
Website